Come to Osaka, do not forget to enjoy traditional dishes at famous sushi restaurants with very affordable prices , attracting the most visitors here.
When talking about food in Osaka, we all think of famous dishes such as okonomiyaki (savory Japanese pancake), negiyaki, takoyaki (octopus cake). However, when it comes to traditional Japanese famous dishes, Sushi is one of the perfect options that visitors cannot ignore when having the opportunity to set foot in the country of cherry blossoms, especially in one Food paradise like Osaka. There are many types of sushi available in famous restaurants around the city.
Here is a list of the most famous cheap sushi restaurants in Osaka that are worth a try when coming to Japan, take note of it!

1. Toki Sushi [Namba]
Toki Sushi [Namba] is one of the most famous sushi restaurants in Japan

Toki Sushi is close to Osaka's famous comedy theater - Namba Grand Kagetsu. At this restaurant, you can choose from a variety of sushi filled with fresh seafood at extremely affordable prices. Seasonally prepared sushi fillings are imported from local food markets, extremely fresh and safe. In addition, diners can also choose other high-end fillings such as uni (sea urchin), toro (fatty tuna) and abalone if you want to have a more diverse experience of typical sushi dishes of this restaurant. .
In addition, if you have come to Toki Sushi, do not forget to try the Mega Mega Mori (150 yen per plate), which is also one of the restaurant's famous dishes, the taste is equally typical as the dishes sushi here. Therefore, Toki Sushi is considered as a great place for those who want to fill their stomachs quickly with traditional Japanese dishes at extremely affordable prices, suitable for everyone.
Opening hours: 11:00 am-11 : 00pm
Address: 4-21, Namba Sennichimae, Chuo-ku, Osaka-shi, Osaka

2. Kamesushi Sohonten [Higashi Umeda]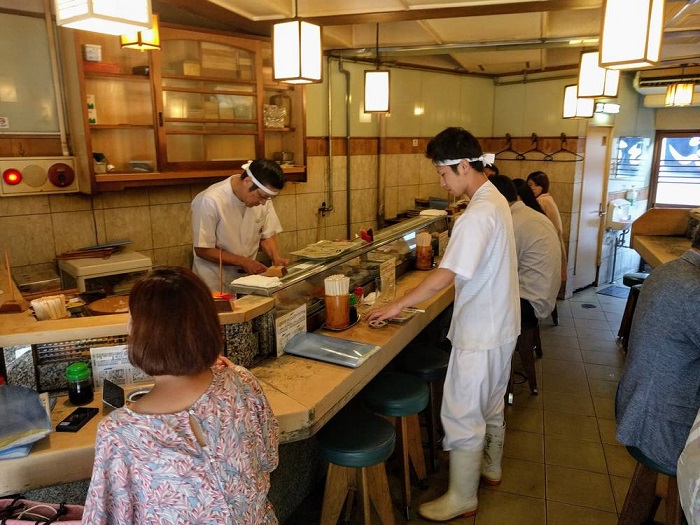 The chefs in the restaurant Kamesushi Sohonten are preparing sushi

Kamesushi Sohonten is an old-fashioned sushi restaurant that is very popular among foreign tourists. In addition to the delicious, reasonably priced sushi, this restaurant also has an English-language menu - no difficulty in ordering for non-Japanese travelers. In addition, Kamesushi Sohonten also requires diners "no smoking", so you can be completely assured about the safety of this restaurant.
In addition to Maguro (tuna) that many diners encourage to enjoy when coming here, Tek Tekka Maki (tuna rolled in rice and seaweed) is also an attractive dish that visitors should also try once if available. occasion to set foot in this restaurant.
Opening hours: (Tuesday - Sunday) 12:00 pm - 10:30 pm (Monday) 4:30 pm - 10:30 pm
Address: 2-14-2, Sonezaki, Kita-ku, Osaka-shi, Osaka

3. Nawa Sushi Namba Dining Maison [Higashi Umeda]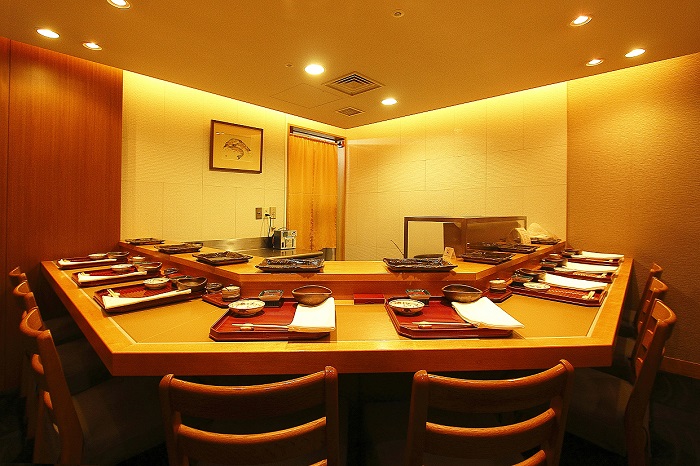 Luxurious space in Nawa Sushi Namba Dining Maison restaurant

Located right next to Kamesushi Sohonten is Nawa Sushi Namba Dining Maison - another sushi restaurant that you should try when coming to Osaka, which owns authentic sushi at extremely reasonable prices. This restaurant is also famous for its unique seating design for diners: tables and chairs are arranged in a circle, surrounding the chefs preparing sushi. Therefore, you will directly see the processing of this delicious dish and do not have to worry about the hygienic quality and safety of the dishes.
Another recommended dish at Nawa Sushi Namba Dining Maison is Unagi seared - a dish that will surely impress you with its sweet sauce or Chutoro is also worth the reward. Recipe and retain the characteristic flavor of this restaurant.
Opening hours: (Tuesday - Friday) 4:00 pm - 12:30 am, (Weekends, national holidays) 12:00 pm - 12:00 am
Closed: Monday (will open if it's a national holiday)
Address: 2-14-1, Sonezaki, Kita-ku, Osaka-shi, Osaka

4. Sushimasa Nakamise [Tenma]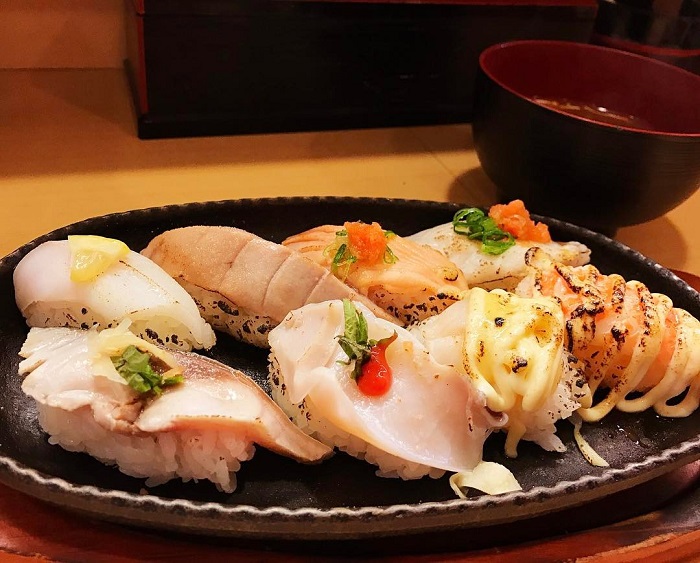 Sushi is extremely delicious

Located in the shopping street, Tenjinbashisuji is a famous sushi restaurant in Osaka that is known for its pristine white space and extremely elegant and simple design. It offers many different types of sushi at extremely affordable prices but the taste and quality are not inferior to any famous restaurant. Therefore, it will be a regrettable shortcoming if you come to Tenma without stopping to enjoy the delicious sushi at this restaurant.
Opening hours: 11:10 am-11 : 00pm (LO 10:30 pm)
Closed: Monday
Address: 5-6-19, Tenjinbashi, Kita-ku, Osaka-shi, Osaka

5. Dotrobori Genrokuzushi [Namba] Branch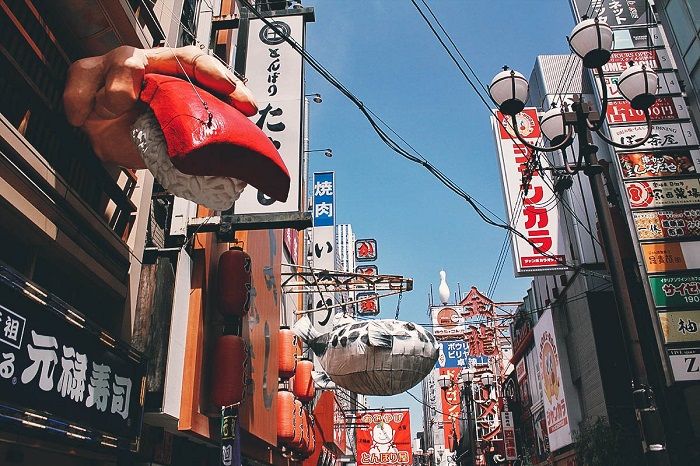 Hand holding a piece of tuna at the Dotrobori restaurant

The Genrokuzushi Dotonbori branch is located right in front of Cui-daore in Dotonbori, one of Osaka's busiest streets. The restaurant has a special appearance with a giant hand holding an eye-catching piece of tuna sushi. This has attracted many visitors who were curious about this restaurant and decided to enjoy the food here.
Almost all of the sushi here is 130 yen per plate, especially the aburi salmon (grilled salmon) - a truly excellent dish that anyone has the chance to enjoy. want to try again 2.
Opening hours: 11:00 am - 10:30 pm
Address: 1-6-9, Dotonbori, Chuo-ku, Osaka-shi, Osaka

6. Issakuzushi [Hatsushiba]

A large number of diners are enjoying sushi at Issakuzushi


About a 5-minute walk from Hatsushiba Station, this sushi restaurant is known for its affordable prices and a very distinctive and delicious taste, popular with both local and foreign tourists.

Aburi chirashizushi (grilled sushi) accompanied by red miso soup and chawanmushi (salty steamed custard) are dishes that create the most unforgettable flavor and are also the most prominent of this restaurant.

Opening hours: 11:30 am-2:00pm, 5:00 pm-9:00pm (can close early if there is no stock)
Closed: Every Tuesday and Wednesday of the month (excluding national holidays)
Address: 1-20-5, Hikishonishi-machi, Higashi-ku, Sakai-shi, Osaka


7. Fujiya Second [Fukushima]

Sushi is made from high quality ingredients but is extremely cheap


Fujiya Seconds is located near Fukushima Station. It does not look like a regular sushi restaurant, but instead is the atmosphere of a vibrant bar. The dishes here are made from extremely fresh and high quality ingredients such as black carp, shrimp, scallops, grilled Ozaki beef, cockles, tuna but extremely cheap prices, only 100 yen for each piece of sushi. So don't forget to come here to enjoy sushi if you have a chance to come to Fukushima.

Opening hours: 6:00 pm-12 : 00am (LO 11:30 pm)
Closed: Thursday
Address: 5-12-14, Fukushima, Fukushima-ku, Osaka-shi, Osaka


There are many famous sushi restaurants all over Osaka, but according to experienced diners, these restaurants are the perfect suggestions for a delicious, flavorful sushi meal. The price of Japan is extremely affordable, suitable for all budgets, and is worth exploring and experiencing.